UPGRADE YOUR AT HOME INDIAN COOKING WITH THESE ELECTRIC TANDOORS…
There are a few things better than eating delicious Indian food cooked fresh from your kitchen. The irresistable aromas filling your house is truly a nostalglic and happy experience. However, sometimes getting the right cookware to make traditional Indian food can be difficult. That's why we found the 10 best electric tandoors on the market so you can start cooking your favorite Indian dishes in the comfort of your own home!
WHAT IS A TANDOOR?
When you think of a tandoor, the first thing that comes to mind is likely the famous Indian dish, tandoori chicken. However, a tandoor is not just the style of that deliciously seasoned barbecue chicken. A tandoor is actually a type of oven and also method of cooking for preparing and baking breads and other varieties of Asian and Indian dishes.
Traditionally, the tandoor is heated with charcoal or a fire creating high heats in it's circular, convection construction. Heats can get up to 480 °C (900 °F) and they are commonly left on to maintain high temperatures.
Ultimately, the tandoor is a combination of a make-shift "earth oven" and a horizontal-plan masonry oven.
THE 4 TYPES OF TANDOORS
Square Tandoor
These are the most commonly used tandoors when it comes to eating out and Indian restaurants. Powered by gas or charcoal and sometimes electricity (which we'll be diving into), these ovens are excellent at pumping out your favorite Tandoor cooked dishes quickly and efficiently.
Charcoal is generally the preferred methods of power for these ovens since it produces a delicious smoke-infused flavor in cooking. However, charcoal isn't necessarily the safest way to cook indoors. That's why most household tandoors are electric for safety reasons.
Gas Tandoor
Gas tandoors are very similar to square tandoors. The only difference is these are powered with a gas burner with petroleum or propane gas.
The oven has several gas burners built into the floor of the oven and a plate that evens out the surface of cooking. This technology allows you to evenly distribute the flame from the gas powered oven into your favorite dishes.
Dirt Tandoor
For those of you who want to keep it really traditional, this is the oven for you. Dirt is a bit of a harsh way of saying…well..clay.
You can actually make your own traditional clay if you have the right dirt/mud to make it. Check out how to make your own tandoor here.
Drum Tandoor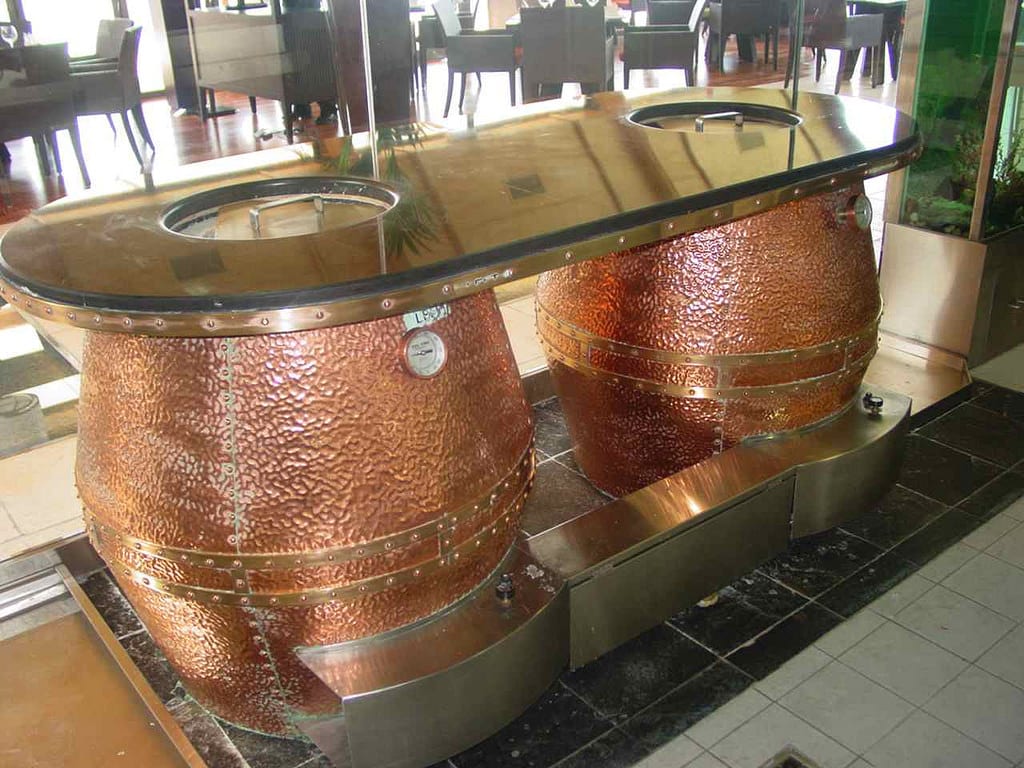 An interesting thing about these ovens is they're actually made from a steel drum. An earth pot is actually fitted into the steel drum and insulated so that the inside gets really REALLY hot. This simple but effective mechanism can actually get up to 1000 degrees.
Check out a dedicated blogger who ended up making his own oil drum tandoor here.
HOW TO CHOOSE THE BEST ELECTRIC TANDOORS
Even though you're probably really excited to upgrade your outdoor kitchen, it is very important to make sure you really know what you need from your new built in gas grill. Here are a few factors that can help you choose the best grill for your backyard.
Size
Choosing the right size tandoor can really make or break your decision. Be sure to get the tandoor that can fit comfortably in your kitchen and that you can store away when not using. Also, keep in mind the size depending on how many servings you want to make.
Non-stick
It's no surprise that new technology in cookware is leaning towards non-stick surfaces. Non-stick surfaces are easy to clean, easy to cook with, and generally last longer. Be sure you have the proper silicone utensils if you want to use non-stick.
Power
Depending on what country you live in, you want to make sure that the electric grill will work properly in your power outlet. Even though you may have an adapter, you want to make sure you use the proper convertor if . it's a device that's out fo your country's electrical range.
Lid
In order to get the proper execution of a tandoor, a lid is necessary to get the high heat cooking environment you need. Be sure to find an electric tandoor that has a lid or else be prepared to check the size and have a lid at hand that can cover the tandoor cooking surface.
THE BEST ELECTRIC TANDOORS
Explore our carefully curated list of the most efficient and reliable electric tandoors available on Amazon. Choose from these top-notch options and elevate your cooking experience.
This compact WNESY Portable Cooking Barbecue Tandoor is ideal for those seeking a traditional tandoor experience with modern convenience.
Pros
Portable and easy to assemble
Hand-made charcoal-fired clay pot
Durable stainless steel and ceramic materials
Cons
Indoor use with charcoal is not recommended
Small cooking space
Only one review available
The WNESY Portable Cooking Barbecue Tandoor offers a unique blend of traditional tandoor cooking methods and modern portability. Its hand-made charcoal-fired clay pot enhances the flavor of your food, and the stainless steel and ceramic construction ensures durability. This tandoor is an excellent choice for outdoor gatherings, picnics, or camping trips where a taste of nostalgic and authentic cooking is desired.
One area of concern regarding this product is its suitability for indoor use. As mentioned in the review, charcoal use indoors may be hazardous to health, so it is not recommended. Additionally, the relatively small size of the tandoor may limit the volume of food you can cook at once, making it more suitable for individual or small group use.
In summary, the WNESY Portable Cooking Barbecue Tandoor is a charming and convenient option for those seeking an authentic tandoor experience outdoors. Keep in mind the size limitations and indoor safety concerns when considering this product for your next culinary adventure.
A versatile and efficient addition to your kitchen that offers various cooking options with easy-to-use features.
Pros
Innovative design with heat resistant tempered glass door
Multi-functional with baking, roasting, broiling, and rotisserie capabilities
Energy efficient and adjustable time & temperature settings
Cons
Limited capacity at 24 quarts
Requires smaller sized poultry due to size constraints
Spring action of door hinge may be too strong
The Nutrichef Upgraded Multi-Function Rotisserie Oven is a modern yet efficient kitchen appliance that can elevate your cooking experience. With its innovative design featuring a heat resistant tempered glass door, you can easily monitor the cooking process while ensuring the safety of your countertop.
This electric oven offers multi-function cooking abilities, allowing you to bake, roast, broil, and even use the rotisserie function for a delicious and evenly cooked meal. The high-powered heating elements provide energy efficiency and time-saving cooking, while you can customize your culinary experience with the adjustable time and temperature settings.
However, the Nutrichef oven comes with a limited capacity of 24 quarts which may not be suitable for larger meal preparations. Moreover, fitting a larger poultry size might be troublesome due to the size constraints of the oven. One minor problem to note is the spring action of the door hinge, which can be too strong, causing the door to slam shut if not properly handled.
Overall, if you're seeking a modern and versatile cooking appliance that takes up minimal space in your kitchen, the Nutrichef Upgraded Multi-Function Rotisserie Oven is a worthy investment. Its range of benefits outweighs its few drawbacks and will allow you to explore various cooking methods effortlessly.
The Wisco 421 Pizza Oven is a solid investment for those who enjoy homemade pizza with precise temperature control and convenient features.
Pros
Adjustable thermostat with a wide range of temperatures
One-touch quick setting for popular cooking times
Removable clean out tray for easy maintenance
Cons
Takes up counter space as a dedicated pizza oven
Timer sound may be too quiet for some users
Careful consideration needed for safe placement due to high temperatures
The WISCO INDUSTRIES, INC. 421 Pizza Oven is a user-friendly appliance perfect for pizza enthusiasts, offering an adjustable thermostat that ranges from 150F to 500F in 25-degree increments. This level of control allows for diverse cooking options beyond pizza, making it a versatile addition to your kitchen.
Its one-touch quick setting enables users to preheat the oven to 450F for 10 minutes, a popular temperature and time for cooking pizzas. Calrod heating elements ensure the oven heats efficiently, providing evenly cooked results, and the LED display allows you to track remaining cooking time at a glance.
Despite the many positive features, the oven is designed mainly for pizza, which may limit its overall utility in some kitchens. Additionally, the timer sound might be too quiet for those who require an audible alert when their food is ready. Users should also take care to place the oven in a safe location due to its high operating temperatures.
In conclusion, the WISCO INDUSTRIES, INC. 421 Pizza Oven is a valuable appliance for pizza lovers seeking precise temperature control and convenience. While its design is mainly focused on pizza, its adjustable thermostat and quick-setting make it a versatile option worth considering.
This versatile smoker offers great results and flexibility for various cooking methods such as grilling, smoking, and baking.
Pros
Versatile cooking options: smokes, grills, steams, bakes, braises, and roasts
510 square inches of cooking space with two stainless steel racks
Unique air flow system for easy lighting
Cons
Difficult to open the door when hot to add more smoking wood
Some users reported issues with assembly instructions and poor packaging
Lack of proper ventilation due to ash accumulation
The HUMOS Outdoor Vertical Charcoal Smoker is a 3 in 1 appliance that provides a variety of cooking methods for all types of food, making it a great addition to any outdoor cooking setup. Its versatility allows users to smoke, grill, steam, bake, braise, and roast, offering plenty of flexibility for creating delicious and unique meals.
With its 510 square inches of cooking space and two 18-inch stainless steel racks, this smoker offers ample room for cooking different types of meat, fish, vegetables, and even cheese. Its unique air flow system simplifies the lighting process and ensures a well-cooked meal every time.
On the downside, some users have reported challenges with opening the smoker's door when it's hot to add more smoking wood. Additionally, the assembly instructions could be improved, as some users experienced difficulty during this process. Lastly, the smoker might have issues with proper ventilation due to ash accumulation, which can affect temperature regulation during cooking.
Overall, the HUMOS Outdoor Vertical Charcoal Smoker is a versatile and efficient option for those who love outdoor cooking. Its extensive cooking capabilities and generous cooking space make it highly appealing, despite a few minor drawbacks.
The Masterbuilt Digital Electric Smoker is an exceptional choice for those looking to achieve perfect smoking results in their backyard without the hassle of charcoal or propane.
Pros
Digital panel controls for temperature and time
Spacious interior for various meats
Patented side wood chip loading system
Cons
Maximum temperature of 275°F
Requires a power source
Insulation may hold heat too well
The 30-inch Masterbuilt Digital Electric Smoker is designed to make smoking simple and convenient for both novices and experienced users. With digital panel controls for on/off switch, cooking temperature, and cook time, you can easily set up your smoker and let it work its magic. No need to fuss with charcoal or propane, just plug it in and start smoking.
This electric smoker has a spacious interior, allowing you to smoke up to 6 chickens, 2 turkeys, 4 racks of ribs, or 4 pork butts. The patented side wood chip loading system makes it easy to experiment with different wood chips without having to open the smoker door. This is a great feature for those who want to try different flavor profiles while maintaining consistent cooking temperatures.
One downside of this smoker might be the maximum temperature setting of 275°F. While sufficient for most smoking purposes, some cooks may prefer a higher heat for certain recipes. Additionally, the smoker requires a power source, which may be a limiting factor for some backyard setups. Lastly, the fully-insulated body retains heat very well, but may be too efficient in some cases, as reviewers have noted that the insulation holds heat too well, making temperature adjustments difficult.
In conclusion, the Masterbuilt Digital Electric Smoker is an excellent choice for anyone who wants stress-free smoking in their backyard. With its digital controls, spacious interior, and convenient side wood chip loading system, it makes smoking a variety of meats and dishes an enjoyable experience. Just bear in mind the need for a power source and the potential limitations of the maximum temperature setting.
GARLIC NAAN RECIPE FOR TANDOOR COOKING
Garlic Naan
Total Time
1
hour
15
minutes
Ingredients
1/4

cup

warm/hot water

1

tbsp

sugar

3/4

tsp

active dry yeast

3/4

cup

warm milk

1

cup

plain yogurt

4

cup

all-pupose flour

1 1/2

tsp

baking powder

1

tsp

baking soda

1/4

tsp

salt

1/4

cup

butter or ghee

1/2

cup

minced garlic and cilantro
Instructions
Preparation
Combine water, sugar, and yeast – stir until the yeast is dissolved. Let it sit for 10 minutes or until the mixture begins to rise.

When the yeast is foamy, add milk, yogurt, flour, baking powder, baking soda, and salt and mix the with a silicone tool it forms dough. It should be sticky.

Divide into baseball size spheres

Cover and let sit for 1 hour
Bake
Tandoor

1 hour before cooking: start the fire for your tandoor

Raise the temperature to 750° – 900° F

Apply Dough

Make into a flattened dough by patting down

*Add garlic and cilantro

Hold cushion in manner you will use to apply to the tandoor wall

Apply dough to other side of cushion (garlic/cilantro side touching cushion)

Pat down side that will touch the tandoor wall with dabs of water

Apply to tandoor wall (use glove if necessary)

Watch as the bread bakes

After about 60-90 seconds, remove with bread removal skewers and place on surface
Serve
Apply dabs of butter or ghee to bread

Let sit for 1 minute

Cut into pieces and serve

Enjoy!
NomList.com is a participant in the Amazon Services LLC Associates Program, an affiliate advertising program designed to provide a means for sites to earn advertising fees by advertising and linking to Amazon.com. CERTAIN CONTENT THAT APPEARS ON THIS SITE COMES FROM AMAZON SERVICES LLC. THIS CONTENT IS PROVIDED 'AS IS' AND IS SUBJECT TO CHANGE OR REMOVAL AT ANY TIME. Product prices and availability are accurate as of the date/time indicated and are subject to change. Any price and availability information displayed on Amazon.com at the time of purchase will apply to the purchase of this product. All prices on this site may change and those considered valid are displayed on Amazon.com