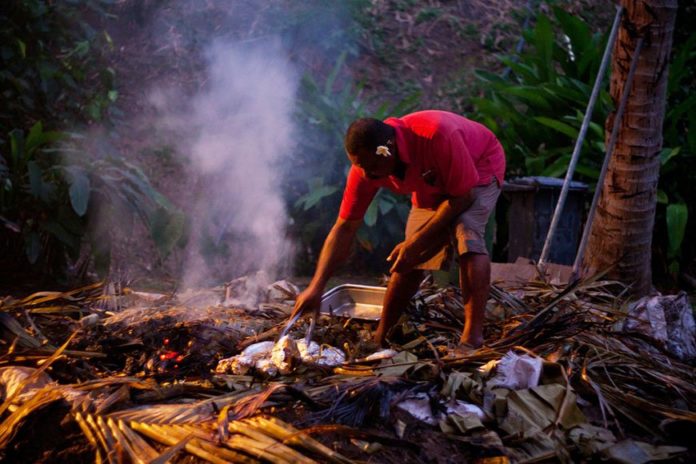 Traditional fiji food is the ultimate comfort food, passed down from generation to generation. It features the best of the local and seasonal ingredients of the region. Some of the popular ingredients in Fijian food is coconut, cassava, sea grapes, fresh local fish, breadfruit, taro and more.
It's a very healthy and hearty diet, perfect for the villagers who are doing strenous labor all day in the hot sun. Fijian regional varieties of Chinese and Indian food are also quite popular and have their own unique spin on the flavors.​ Obviously seafood is a major highlight of this island.
1. Kokoda
Similar to ceviche Kokoda is a fish marinated in citrus juices. Made with Mahi Mahi or any other freshly caught local fish, its mixed with coconut cream, onions, tomatoes and chilis​. The locals love this spicy dish and its served in a super festive way: in a large clamshell or coconut shell. It's considered the national dish of Fiji
Restaurant Recommendation
Nadina Authentic Fijian Restaurant | Address: ​Port Denarau Marina ; Building C, Shop R1 & R2, Denarau Island, Viti Levu, Fiji | Phone: +679 675 0290
​
2. Rourou
Rourou is Dalo or Taro leaves and is similar to spinach. It can be served in a variety of ways. One popular preparation is to cook it down to a similar consistency as that of cream of spinach (without the cream)​. The super traditional Fijian tradition involves cooking the rourou leaves in an underground earth oven also know as a "Lovo".
With Rourou you can also make Fijian Rourou Peti, which is rourou leaves stuffed with a mixture of chili, onion, coconut milk, and tuna. They are little bundles of joy in the mouth. ​
Restaurant Recommendation
​Tu's Place | Address: Queens Road, Martintar, Nadi, Viti Levu, Fiji | Phone: +679 672 2110
​
3. Lovo
Lovo is a cooking method and when you serve lovo, you serve an array of dishes cooked in a lovo. Similar to when you have BBQ. ​The lovo is kind of like an underground oven. For a lovo, all the proteins and the taro are marinated and then wrapped in foil. After all the food is placed in the hole, everything is covered up with banana leaves and hot rocks and left for 2-3 hours to cook. This is a popular celebratory meal.
Restaurant Recommendation
​Koro Sun Resort Restaurant | Address: Hibiscus Road, Savusavu, Vanua Levu, Fiji
​
4. Palusami
Palusami is assembled using rourou or taro leaves, the leaves are stuffed with a meat and coconut mixture.​ It usually stuffed with corned beef and onion but its common to stuff it with seafood also. Corned beef has been traditionally used because fresh meat hasn't always been easily accessible to the island.
Check out our Palusami recipe
Restaurant Recommendation
The Old Mill Cottage | ​Address: 49 Carnarvon St, Suva, Viti Levu, Fiji | Phone: +679 331 2134
​
5. Topoi
This is a breakfast or brunch item that tastes amazing with tons of butter.
​
6. Coconut Bread​
​In Fiji, the coconut tree is known as the "tree of life". Indeed you'll find that so many of the recipes in Fiji feature coconut as an ingredient. Coconut bread has been around for thousands of years in Fiji and is a delicious staple food of the culture.
Restaurant Recommendation
Hot Bread Kitchen | ​ Address: Shop no. R10, Port Denarau, Nadi, Viti Levu, Fiji | Phone: +679 675 0224
​
7. Lolo Buns​
Lolo Buns are Fijian Coconut buns and they taste best hot out of the oven with an iced tea.​ They are semi-sweet and are great for breakfast or as a side to a traditional Fijian dinner. These are similar to a dish in Hawaii called Pani Popo. These bread buns are soaked in coconut milk and served when they've become golden brown.
Check out our Lolo Buns recipe
Restaurant Recommendation
Dicks Place Bar & Bistro | Address: Musket Cove Island Resort, Fiji | Phone: +679 666 2215
​
8. Cassava Cake
Cassava is known as such in Fiji but it is known in other regions as Tapioca or Sago. Kind of similar in consistency to sticky rice you can top this with butter, jam, fresh fruits or whatever you like.​
​
9. Fish Soup​
Of course the soup is flavored with the ubiquitous ingredient of the Fijian region: coconut milk. It's also has a tanginess brought about by the addition of lemon and ginger.​ This is a very simple and easy to prepare meal that makes for a great lunch.
​
10. Lamb Stew​
This is a traditional home cooked meal. The lamb is mixed with potatos and carrots and seasonal veggies such as Chinese cabbage or bele.​ The lamb is cooked till is fall off the bone...this is Fijian comfort food at its finest.
​
11. Chicken Curry
Indian food has a huge influence in Fijian cuisine. Here the chicken curry is mostly tomato based and is lighter in consistency than a traditional Indian curry.​ Plantains or potatoes are often featured in the dish also.
Restaurant Recommendation
Rik's Harbour Restaurant | Address: 679 Suva, Pacific Harbour, Viti Levu, Fiji | Phone: +679 978 2521 Website​
12. Custard Pie
This delicious sweet treat tastes like cake mixed with cookie.​ The custard is creamy and smooth and it melts in your mouth. Breadfruit is often grown at home in Fiji as a staple food. The fruit isn't really eaten raw, first it is prepared by either roasting, baking, frying or boiling it. Its reminiscent of potato or baked bread.
​
13. Duruka
Also known as Fijian asparagus, Duruka is the unopened flower of a young sugar cane. It's can be served in a multitude of preparations: cooked in curry, in lolo (coconut milk). It has a very short season in between April and May and you must remove it from it's sheath before eating.
​
14. Nama
Nama are affectionately known as "sea grapes" in Fiji where they are harvested and grown in shallow waters. It's a signature item at hotel buffets and you can easily find them sold at the local market. They contain lots of Vitamin C and A, the Japanese believe that it has powerful healing properties. Nama is also known as "green cavair" and can be substituted for fish eggs, making for a great vegan dish! It tastes great served simple with just chilis and lemons as seasoning.
Restaurant Recommendation
Tuki Tuki Restaurant | Address: ​63 Gordon Street, Southern Cross Hotel ; top floor of Southern Cross Hotel, Suva, Viti Levu, Fiji | Address: +679 331 4233
​
15. Indian Food
Fiji's population is 40% Indian, their ancestors having arrived in Fiji and servants and labors in the 1800s. While undeniably Indian, Indian food in Fiji is more subtle and is lighter in consistency.
Restaurant Recommendation
​Indigo Indian Asian Restaurant | Address: Port Denarau Marina, Denarau Island, Viti Levu P.O BOX 259, Nadi, Fiji | Phone: +679 675 0026
​
16. Baigan Valo
Baigon Valo consists of steamed eggplant stuffed with fresh fish and then topped off with coconut cream.​
17. Purini
Purini is Fijian steamed pudding. It's a great treat with an afternoon tea and you can top it off with generous amounts of custard or butter! The authentic preparation has it steamed in a pudding cloth so that's its super moist and not overly sweet. It's has a chewy, firm texture.
Restaurant Recommendation
Hot Bread Kitchen | ​ Address: Shop no. R10, Port Denarau, Nadi, Viti Levu, Fiji | Phone: +679 675 0224