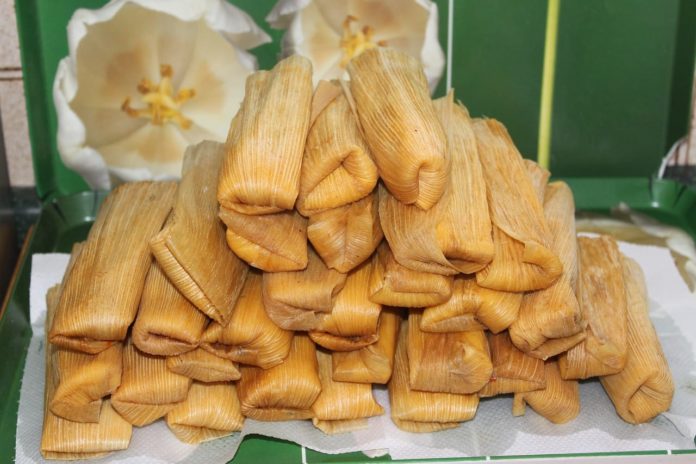 What are Tamales?
Tamales are a traditional Mesoamerican delicacy, made as far back as 7,000 BC in more simple forms. Today, it is a meal made with masa, often filled with cheese, vegetables, various meats, dried fruits, olives, and chilis, and steamed in corn husks or plantains until it's firm. The taste of the inside. Tamales are memorable not only for its taste, but also for its portability in the husk.
Tamales also have many names, including pasteles, tamals, and tamelitos. You'll find that many families and cities have variations for their tamale recipes, and these are often passed down generations. Now that it's getting easier to access fancier machines, it will be no problem trying to try various kinds of tamales.
What are Tamale Making Machines?
Tamale Machines remove the hassle and time out making tamales. They make the process of assembling tamales faster and easier through a swift combination of masa and meat; all you need to do is wrap each prepared filling with corn husks, or any substitution. You often have a choice between electric and manual depending on how involved in the tamale-making process you wish to be.
Manual tamale machines tend to be smaller, which is ideal for personal tamale endeavors, whereas electric tamale machines are larger, but can do much more in less time, perfect for restaurants or businesses. Realistically, you probably aren't capable of making around 400 tamales per hour by hand, but with a tamale machine, you most definitely can---and without losing that "homemade" tamale taste! We've gathered together the best machinery options for making your own tamales at home.


The 7 Best Tamale Making Machines
​

The El Toro 100% Electric Tamale Machine by Davison's Butcher is massive! This is a stunning option for those looking to make large batches of tamales at a rapid pace, including businesses and large family restaurants. When we say this is fast, we're not kidding. This machine can make up to four dozen tamales per round using the 1 ¼ inch diameter nozzle, and up to 480 tamales per hour.
This machine offers adjustable nozzles depending on the diameter you want your tamales to be in; it allows for 1 inch, 1 ¼ inches, 1 ½ inches, 1 ¾ inches, and 2 inches for the diameter. The masa tube can hold up to eight pounds of masa and the meat tube can hold up to four pounds of meat.
The El Toro comes with many parts, but don't fear. It's easy to assemble and disassemble. The outside of the El Toro is made of stainless steel, HDPE, and UHMW, which speaks to its durability; these materials are also easy to clean! The inside of it is ALL metal, which, as you can imagine, will last you years to come.
Each cycle is about two minutes and 20 seconds. Mind boggling, we know. The meat placed in the cylinders doesn't need to be grounded either; all that extra work is done for you. Because of how the machine is set up, it only requires one person to operate it.
"Tio" Carlos' Tamale King is a brand that specializes in bringing the best tamale making machines into your kitchen! Our favorite model for the average consumer is the TK156. It holds a whopping 3 ½ pounds of masa and 2 ¼ pounds of meat, or as the brand says "60% masa and 40% meat."
This brand is defined by its self-leveling piston action that makes the machine work the way it does. The fact that this tamale machine is so compact and lightweight makes it so much easier to store.
The handle and the base are made of cast metal so you won't have to worry about the machine falling apart; the cylinder and plungers are food grade polycarbonate.
The best part about this machine is its ability to make three different sizes of tamales. The default nozzle is 1 ⅛ inches and makes 30 four inch tamales on its own. When you add the 1 inch cylinder, you can make up to 40 four inch tamales; when you add the ⅞ inch cylinder, also known as the most popular size, you can make up to 50 four inch tamales! It's tamale heaven! You'll also find that the meat is dispersed very nicely within the masa, which gives each tamale that "homemade" feeling without the labor.
Still not impressed? Well, the way this model is built allows you to empty the cylinders within two minutes and reload them within two minutes. This Tamale King machine is perfect for those looking for a small, low-maintenance, easy-to-assemble tamale maker!
The next one up from "Tio" Carlos' Tamale King's model TK156 is the TK156X.
The model TK156X is, essentially, the same at the model TK156, but the TK156X comes with an extra set of meat and masa cylinders, which heightens the efficiency of the machine altogether. Having more cylinders means you can use a cylinder while you're cleaning the dirty ones, increasing production time. Removing and installing the cylinders only takes a few seconds too.
Like the model TK156, this one can be customized with three different nozzles: 1 ⅛ inch, 1 inch, and ⅞ inch nozzles. It is also made with cast metal and food grade polycarbonate. Both are relatively compact and low-maintenance, as well as durable and simple in usage.
If you find yourself making more tamales than most, it may be better to invest in Tamale King's model TK156X rather than the model TK156.
BE&ESCO manufactures both a manual and an electric tamale making machine. A manual tamale machine may require a little more work, but it keeps the nature of being able to make your own tamales by hand!
The actual process of using this involves turning a lever that pushes the cylinders, and fuses the masa and meat together. This lever allows for the ability to push product out to the desired length, as opposed to levers that can be limiting in that sense.
This bad boy can make 35 dozens or up to 400 tamales per hour, which is plenty for those big celebration days! Not only that, but many people fancy this machine due to its versatility.
Apart from tamales, this manual tamale machine can prepare churros, candies, and canapes. Each cycle takes approximately 10 to 12 minutes, and it has four different extruder size options.
BE&ESCO's Electric Tamale Machine looks and works a little differently than their manual machine.
It is a highly favored freestanding machine that can make up to 200 dozen tamales per hour, which is more than enough using the least amount of effort! The only work you'll need to do is to prime the manifold with meat and secure the cylinders in place; tightly fill the cylinders with your masa and your meat and watch the rest of the magic unfold with the machinery!
The inside parts themselves are also quite easy to access, so cleaning the machine won't be a hassle. You also have the option of purchasing an attachable conveyor with a tamale cutter, something that isn't offered with the manual machine.
Utilizing the attachable conveyor belt allows for more precision and automation, so you'll get the most accurate results with less work. And if you ever need to, this electric tamale machine can also make churros, candies, and sausages.
"Tio" Carlos' Tamale King also offers the new and improved TK157 model.
The look of the model TK157 is noticeably different from the model TK156 in its design, but not so much in the function. Unlike the aforementioned models, the TK157 is mounted on an aluminum stand and comes with an aluminum tray. The change in material truly shows attention to detail, which is why we love this brand so much!
Of course, the nozzle options are still the same; you can use the 1 ¼ inch, 1 inch, or ⅞ inch nozzle. This is also a valid option for those businesses looking to use a tamale machine without taking up as much space as any of the other options.
Davison's Butcher's La Tamelera Manual Tamale Machine is perfect for businesses or people who just love feasting on tamales! We love how customizable the process is. Like the El Toro machine, this machine allows you to adjust the diameter size of the tamale; it offers 1 inch, 1 ¼ inches, 1 ½ inches, 1 ¾ inches, and 2 inches for the diameter!
At 39 inches tall and 86 pounds, this machine is meant for heavy duty jobs and has a chamber size of 18 inches. The masa tube can hold up to eight pounds of masa and the meat tube can hold up to four pounds of meat. Talk about huge! The meat used for the tamales doesn't even need to be ground before putting this bad boy to use.
Of course, the number 1 machine for making tamales is your own pair of hands! Yet we can't help but love the efficiency of these tamale machines. So now that you have your Tamale Maker, you're ready to start making those large, neat batches of tamale.
How to Make Tamales
To make the best possible tamales, regardless of whether you're using a machine or your hands, it is optimal to understand the details of how the traditional process has always worked. And remember, there are so many variations of tamales, so take out and/or add anything!
You'll need:
A crockpot

2 cups of masarepa/masa harina

⅔ cup of lard or vegetable shortening

1 can of beef or chicken broth

1 pound of banana leaves or corn husks

1 cup of sour cream

1 ¼ lbs of pork loin

1 tomato

1 onion

1 red bell pepper

3 cloves of garlic

1 teaspoon cumin

3 dried guajilo peppers

3 dried ancho chilies

1 Serrano pepper

1 Jalapeno pepper

2 cups of water

salt and pepper

Any other vegetables for the filling!
It takes roughly 30 minutes to prepare and five hours to cook.
Start out by taking your crockpot and adding two cups of water. Chop up your onion, bell pepper, and garlic clove, and place them in the broth, as well as about a teaspoon of salt, a teaspoon of pepper (or to taste), and a teaspoon of cumin. You'll want to take your pork loins, cut them into two inch chops, and season them with salt and pepper. Let this mixture sit in the crockpot for about four to five hours to allow the meat to tenderize for easy shredding. Once a few hours has passed, finely shred the meat with a fork, but don't abandon that broth!
Then, you'll want to make a chile sauce that can be thrown in while you're creating the dough and as a topping for the final product. Remove the seeds and stems from your guajilo peppers, dried ancho chilies, serrano peppers, and jalapeno peppers. If you prefer more heat, you can leave the seeds in. Throw in the guajilo peppers, chopped white onion, and two garlic cloves into the pot to boil. Follow this up with the dried ancho chilies, serrano peppers, and jalapeno peppers. Once you reach a smooth consistency, you'll want to purify this boiled mixture with a blender to get rid of any chunks.
For the dough, put the masa harina into a bowl and stir in a cup of the leftover juices from your crockpot. Throw in some of the chile sauce made earlier into the mixture. Slowly add in the can of beef or chicken broth while stirring. Once the dough is soft, work in the lard. You'll be using your hands for this step so be ready to get down and dirty; bond with your tamales!
Next, you'll want to seperate and soak your corn husks or banana leaves in warm water for about two hours. Take your dough and spread it on the corn husks or banana leaves with a ¼ to ½ thickness. Take the meat and place one tablespoon in the center; you can be generous with the meat! Wrap those babies up, seal them well, and throw them in a steamer.
When you're ready to consume your tamales, take them out of the husks/leaves and nom! You can eat them with sour cream and/or chile sauce for extra flavor.
---
NomList.com is a participant in the Amazon Services LLC Associates Program, an affiliate advertising program designed to provide a means for sites to earn advertising fees by advertising and linking to Amazon.com. CERTAIN CONTENT THAT APPEARS ON THIS SITE COMES FROM AMAZON SERVICES LLC. THIS CONTENT IS PROVIDED 'AS IS' AND IS SUBJECT TO CHANGE OR REMOVAL AT ANY TIME. Product prices and availability are accurate as of the date/time indicated and are subject to change. Any price and availability information displayed on Amazon.com at the time of purchase will apply to the purchase of this product. All prices on this site may change and those considered valid are displayed on Amazon.com